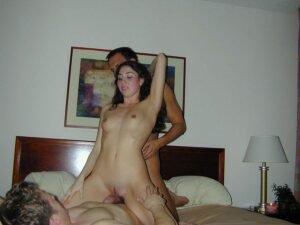 Hi there, we've looked at this site a couple of times just for fun and decided to post this true account of what we enjoy in our sex life. My name's Janis and my hubby is Ron, I'm 46 and Ron is 7 years older. Our two kids are grown up and have their own families living in other parts of the country. We've always had a good sex life although like most couples it had lulls now and again.
It was during one of these runs that we began talking about us fucking other people. We were on holiday in Marmaris when I was chatted up constantly by one of the waiters while my hubby was present and we soon started to fantasize about it when we fucked. Nothing happened with the waiter, but when we returned home our fucking sessions increased in both frequency and intensity and the amount of spunk Ron shot seemed huge, especially when I talked about the waiter before sucking Ron off.
This got us so horny we decided to try it. That was 4 years ago and I now get fucked by Rory, a 40 year old guy who works as a business consultant. I won't go into the details of how we met, but he has a gorgeous 9in cock which is just the right girth. We meet 3 or 4 times a year, the first time at a travel lodge the rest have been at our home. We start with a couple of drinks and maybe a small meal, which Ron prepares then Rory and I get to hot dirty sex while Ron sits back and watches, wanking slowly.
Ron has a nice 7in cock, smaller than Rory's which I delight in telling him: a little light cuckolding is fun. I love sucking Rory's big cock, slurping loudly on his smooth knob. I like to lift his muscular hairy legs, which Ron sometimes helps me to do, then lick his hairy arsehole which really makes his cock twitch. I have swallowed his spunk more than once which was quite a feat because he shoots such a big load it has leaked from my lips onto my chin.
Ron shot his load instantly the first time he saw this and ten minutes later he was fucking my brains out then shooting a second big load up my pussy while Rory encouraged him. I've always been more than willing to suck Ron off and although the taste of spunk isn't like champagne it's not unpleasant. Rory's spunk is thick and warm and does taste slightly different from Ron's. We both enjoy Ron fucking my arse, which he has done for many years, although not too often. Rory has not fucked my arse and I think I'll keep it that way and just keep my arse between me and Ron.
Rory can certainly fuck and Ron loves to watch him pumping me in all positions, often making me scream to such an extent that Rory has to cover my mouth. He's filled me with spunk 3 or 4 times in a night when he's stayed over and Ron often cums more than once. In between Rory's visits Ron and I fuck like rabbits, lick each other everywhere and Ron's spunk flies in all directions. In normal circumstances Ron is a healthy, I think good looking, confident man and when we first started to fantasize about me taking other guys cocks, bigger than Ron's, he couldn't get his head round why this should turn him on so much.
However, the more we found out about cuckolding we realized how much is going on behind closed doors. I think it's a completely normal fun thing, at least it has been for us. As a wife there's nothing so horny as watching your hubby wank while taking a big cock up your pussy and feeling another guy shoot a huge load of hot spunk up you. It gives me a sense of power and knowing I have made two guys shoot their load is so horny. Ron and I are very close and we hope Rory doesn't decide to call it a day any time soon, I love two cocks and double spunk. For now at least everything's good. Incidently I wouldn't swap Ron for anything, Rory is a great fuck and has made me sore, but that's all he is, a nice big spare cock. It seemed to us that most of the letters on here were from men so I thought it would be nice to give a real wife's view, we're glad we tried it.
Janis