It all started a few months ago I had always wanted to see my wife fuck a black guy but never thought it would happen. We went away for a weekend to her mum and dad's house, and for our anniversary we went to the cinema then out on the town, we had not been out for a long time since we had our little boy, so this was really nice for us, free babysitters and no work in the morning. Guildford was a nice place and had some really nice people there, but not many black guys around, we went to a pub first after the cinema. It was quiet in but we had a few drinks there, I had 2 cokes and she had 2 vodkas and lemonade , we were just chatting and people watching , but the place never really filled up so we went to find a more happening place, just over the road was a club. Flares was a 70s and 80s club, we went in, got another drink and went to the edge of the dance floor. Liz was dying to dance, it was her kind of music and her body was raring to go. We chatted for a bit more and there were 3 girls dancing at the edge of the floor .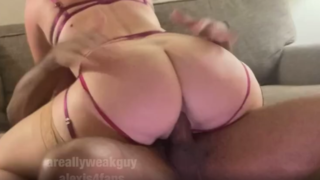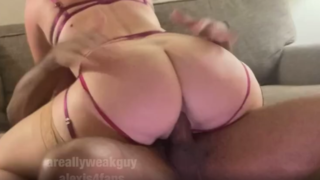 I nipped to the loo which was down 2 flights of stairs and a bit scary with all the squeezing past everyone on the way. Some were doing drugs, others just doing the club thing; snogging, groping and other things, you can guess. Back from the loo, I went to the bar and got 2 more drinks, the same as before but doubles , when returning to the dance floor Liz was dancing with the 3 girls at the edge of the dance floor. I went over to a small table and just watched her dance; she came over a few times for a drink then went back dancing. After a short while, to my astonishment a black guy came from nowhere and started chatting to Liz and the 3 girls, dancing with them, I could not believe it, there was a black guy dancing with my wife.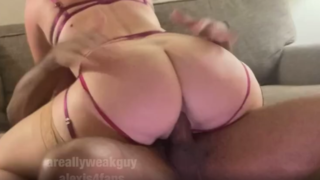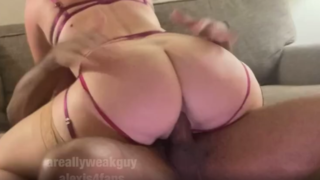 He asked her if she was single and she said no she was married and her husband was just over there pointing to me, he came over to me apologising for hitting on my wife and I just said it was ok and told him to carry on dancing with her. He went into the crowd. Liz came over to me and said that black guy has just asked if she was single, "see I have still got it" she said. I told her she should've said yes so I could see her snog a black guy; something I have always wanted to see and she knows it. She was getting very tipsy by now, I went over to the bar got some more drinks, came back and started danced with her for a bit. She was getting more and more flirty with her moves, which was attracting a lot of attention. I was dancing at the back of Liz putting my hands on her arse and just glancing over her bust now and again when the black guy came back onto the dance floor and Liz pointed to him to come over. He started to dance in front of us when Liz put her hands around him and pulled him towards her, she was now sandwiched between me and this black guy and he was thrusting against her and I was thrusting behind her, groping her arse. He put his hands around her waist, pulling her towards him as he was thrusting his hips and looking down her top, his head getting closer to her bust with every move, he was that close he could have licked them. I think the urge was too much for him as his hands came up and groped her boobs, cupping them in his hands; and they were big hands. Liz was now quite drunk and was letting herself get really into the mood, both of our hands were all over her and she was loving it. The song was coming to the end and the guy turned and went to the other side of the dance floor to his mates and his drink. Liz turned round to me and said "well what do you think of that then?" as she groped my cock which was rock hard from what I had just seen.
MY WIFES FIRST BLACK COCK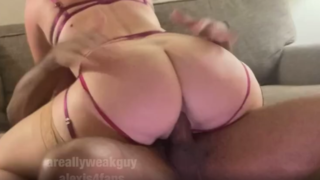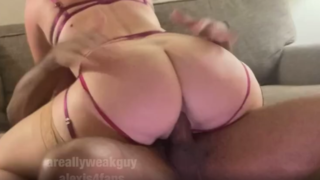 She then said she needed the loo and asked me where it was, I told her it was downstairs and pointed to them walking over with her, and off she went as I went to the bar for some more drinks, I took the drinks back to the dance floor to our small table and waited, it seemed to be a long time, a really long time but I know the girl's loo, you may have to queue to get in so I waited and waited and waited until I thought I better go and look for her. It was hard to get down the stairs as there was so many people down there, I got down one flight and then as I started to get down the second flight I could see Liz by the emergency exit door snogging the black guy. I could only see the top part of them both so did not see what was going on below but as I moved down the stairs to see more I saw her hand around him squeezing his arse, he was kissing her on her neck moving down to the top part of her bust and Liz was leaning back so he could lick and kiss more of her neck and cleavage pushing her boobs more and more in his face. I could only see one of his hands though which was groping her bust as he was kissing her. I could not see the other one but as I got even closer, about six foot away, I could see all the action, his other hand was down her jeans and they where unbuttoned with the zip down just enough to get his hand down there. I could see he was rubbing her clit with his fingers, slowly sliding them in and out, Liz was thrusting against him trying to get more and more of him as she could. She moved one had from his arse and started to undo his jeans, she did it with one hand very easily and moved down to see what he had, I could see from the smile on her face that what she had found was not disappointing for her. She started to move her hand up and down on his cock, I was in my element, this was a dream come true for me, you could see this black guy wanted to fuck her and who could blame him she was really good looking, had a great bust, really fit arse and big kissable lips to die for. Liz pulled her jeans down just a bit more just so they were at the bottom of her arse and he had enough room to move in, Liz guided his really big black cock into place and he moved up so his cock was just at the tip of her hole before pushing in really slowly. Liz gasped with the size of the black cock, we have a black dildo at home but I think his cock might have been just a bit bigger and better than that as it was real, warm and wet black going into white. Liz gasped some more as he pushed his cock into her and smiling, wrapped her hands around his arse and pulled him in to get even more of this mammoth cock inside her, pushing her head back so he could have easy access to her tits. He had both hands on them now with his tongue licking them, pulling her bra down to expose her nipples he put his lips around them, sucking and licking them, her hands where digging in his arse as she pulled him towards her, you could see him lean back and start to jerk as he came inside her, dumping his black baby gravy, you could tell she could feel it inside her as his warm sperm entered her, there must have been quite a bit. I looked down to her fanny where I could see his cum starting to seep out and her fanny was really wet. I was stood right at the side of her now and she looked over to me smiled leaning towards me and started to kiss me with his cock still inside her. As he jerked to get the last bit of sperm in her Liz said to me "now that's what I call a cock, a proper cock" She took the guy's number and said she would be back for more next time we were in Guildford and may be I could join in.