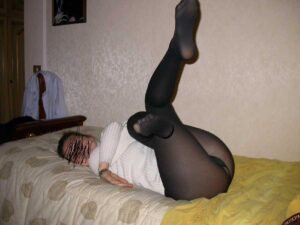 Hello, My wife and I had not been getting along that well over the last few months. I know she seemed as frustrated as I was. Even though I loved my wife I was getting more distant from her because of my obsession with sex. The more our sex life dwindled the more time I spent on the computer looking at porn. My wife caught me a couple of times and we had screaming matches over it. After that I always made sure that I hid my fetish stuff away from her so she couldn't see what I was looking at. Because of her upbringing and outlook on sex, I never felt I could talk to her about my fetish's. I loved looking at women dressed in nylons/pantyhose and high heels, heavy make up, leather you name it. More importantly I was very submissive and wished some woman would work me over make me lick her nylon feet and shoes. I wanted to serve and submit to women. I would watch my pretty wife get dressed for work everyday and wished sometime she would come home with a run in her pantyhose or better yet her crotch full of another man's cum. I would masturbate and fantasize about my wife fucking some young stud and having me lick her clean while she wore her pantyhose. I loved the thought of her cuckolding me. I tried to bring up these subjects to her when we were in bed but she would get mad at me everytime except once. We were at an out of town wedding and she was dressed really nice in sheer tan pantyhose and showing a lot of leg. She drank too much and danced with a few men that night. That night in bed I told her how turned I was watching her dance with those men. She became so hot with me talking about it that she allowed me lick her pantyhose crotch till I worked a hole in them. Then for one of the few times in our marriage she let me actually have sex with her still wearing her nylons. She was always so practical she would always remove them saying they too expensive to just rip and throw and away. Not that night, that night she let me have my way with her in her pantyhose. We made love that night with me telling her I wanted her to fuck other men. She seemed more turned on than ever and we had the best sex in years. The next day not a word about that subject came up but I noticed my wife was acting a bit different from that day forward. In fact she joined a health club and bought new outfits as she got in better shape. Our sex life was about the same till one night when she went out with some coworkers and had a few drinks. She came home tipsy and she entered the bedroom. She woke me by kissing my cock and sucking it. This was new since she never liked putting that thing in her mouth. She pulled her mouth off of it, licked her lip stick lips and seductively asked me if I wanted to kiss her nylons. I jumped at the chance and kissing her feet first and working up her smooth nylon legs. After a few minutes she yelled out for me to lick him out of her. I was stunned, did I hear it right. While I was wondering she grabbed my head pulling it down towards her nylon crotch taunting me to lick her boyfriend's cum out of her. I dove in ripping a hole open in her crotch. I stared for a moment when she said; "what's the matter, wondering if I really did it, go ahead and find out if I did." With that she pulled my face down to her wet pussy. I stuck my tongue inside, closed my yes and licked her. She moaned holding my head as she pumped herself into my face. She kept taunting me to clean her good. Once she had her orgasm she pushed me away and rolled over still wearing her clothes. I moved up to fuck her but she stopped me telling me that she had enough for one night. I found myself begging her to let me inside her. Finally she told me she let me rub my penis on her nylon legs till my little bit of cum dribbled out. I was so turned on but yet scared by her attitude. I moved my penis as she called it up against her leg and masturbated till I came. I did cum more than even she expected which prompted her to say; "wow, maybe I should get a boyfriend if this is the reaction I get from you". My cock was twitching as her words came out. The next day she was back to not wanting to discuss such things. I was confused. Over the next weeks whenever we had sex it was always me orally satisfying her and then her using her nylons to masturbate me. It dawned on me one day that I had not entered her in over three months! The strange part was that between using her nylons and my own masturbation looking at my sites on the computer I was more than satisfied. I thought there was must be something wrong with me that here I was a macho man that hasn't penetrated his wife for over three months and is happy just orally taking care of her. I guess things do happen over time and you notice things till something actually happens that opens your eyes. For me it was my last business trip that brought out everything that had been going on in our relationship. I had to go out of town on business and it was to be at least one week maybe two depending on how far we would be able to get with the project. My wife dropped me off at the airport on Sunday afternoon. I was working on my computer on the plane when I realized that one of the key elements I needed for this project I must have forgot to download from home computer to my flashstick hardrive. I needed it bad so when I reached the hotel I called my wife and told her what I needed. She went into the den fired up my computer and waited for my instructions. I walked her thru my passwords and to the files I needed so she could email them to me. I thanked her profusely and told her I would talk to her in couple of days. It was the next day when I was in meeting that I saw anther email come thru. Thinking it was from the home office I opened it to look.
Having my Wife Dominate Me
PANTYHOSE, HIGH HEELS, BOOTS, SANDALS, SUBMISSIVE, ORAL, CUCKOLDING, CHEATING HOT WIVES, PAINTED NAILS, LICKING LOVERS CUM FROM CHEATING WIFE'S PUSSY, DOMINANT WIFE, JEWELERY. WOW! HONEY I NEVER KNEW YOU HAD IT THIS BAD. WOW! YOUR NEW DOMINANT CUCKOLDING WIFE I panicked, looked around to see if any else had seen what my email was. Bob looked over at me; "Mark you OK, you look panicked." I was sweating so bad I closed my computer and took it with me excusing myself to go to the restroom. In the men's room I opened it back up and emailed her back asking her what was going on. I waited, no reply. I excused myself the rest of the afternoon and headed back to the hotel. Finally her reply came back.
"Mark,
Interesting things you have been looking at on the computer, thank you for the passwords. I never knew you were into this stuff but after spending all night looking at what you look at, well let's just say that you have opened up my eyes to the new way of looking at our marriage, in fact I loved it so much I had Katie come over and see what you have been up to. No wonder your penis was always too tired for me, your hand must be a good date. Katie and I have really enjoyed seeing you for what you really are. Oh well I guess now that we know what each other wants it will be much better for us. I shot back Katie-that feminist bitch what and why the hell did you show her and what the hell do you think you are doing on my computer looking at my private sites. "Cool it stud, you gave me those passwords-remember? Watch your tongue or you will regret it. UNDERSTAND!" "BY the way Kathy is amused by the you calling her a feminist B when in fact that is what you crave in your pathetic life." Now I was scared as I replied back that I was sorry and that I would make it up to both of them when I returned. Her reply startled me; "I haven't decided if you are returning here or not, your attitude over the next few days and when I pick you will decide if you stay with me or not, from now on I am calling the shots and you will obey or be gone, your choice I really don't care!" I emailed back telling her I was sorry and I would change but that she could not throw away all of these years together just over this. Her reply was cold; "I won't be the one throwing them away you will be. This is why I wasn't getting any from you all of those months and this is why I finally had to take of things for myself so I could get some satisfaction, well buster this is what you apparently wanted and I am more than willing to deliver all of it and more you haven't even thought of yet. The only contact I want from you is when you are returning so I can pick you up otherwise do not email or call me, if I want you for anything I will contact you." For the rest of the trip I almost had a nervous breakdown. When I got home she told me she didn't really tell katie and that she never would throw me out. I was relieved. But that she will be getting a regular boyfriend and that I won't know when she's with him. Maybe she'll tell me in advance and maybe she won't. We fucked hard for the first time in months and then she told me she'd need to save herself for the next month. I got hard again and am now just waiting for her to make the next move. On a side note, our relationship is better than ever. with her being in charge. Mark
---